Experiential Education
What do we do?
Sentio are leaders in the development of high impact experiential and narrative based learning resources. We design learning tools and professional learning programs that engage participants cognitively, emotionally and viscerally. Drawing on our extensive experience in the field of aesthetic education we create engaging, authentic and entertaining case studies that bring contexts and issues to life. Sentio designed experiential learning tools can be embedded in e-learning contexts or used in face to face professional development programs.
How do we do it?
Sentio consultants collaborate with organisational leaders to identify desirable learning outcomes and then create customised scenarios or simulations to embed in professional development programs. We research thoroughly before building content, drafting storylines, creating characters and placing them in challenging contexts relevant to the organisation. Our narrative scenarios require participants to engage with different perspectives and build their problem-solving capacity. We also specialise in innovative curriculum design including the use of role play and face to face experiential learning strategies.
Sentio experiential education projects involve the following design and implementation phases: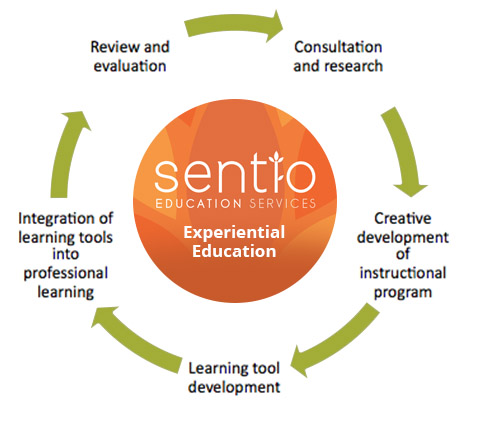 Sentio experiential education services include:
Customised scenario development
Facilitation of experiential learning
Development of narrative based audio- visual learning tools
Delivery and development of experiential professional learning
Curriculum design
Instructional design for blended learning.
 
Contact us to discuss your requirements at: [email protected]
Sensing, Experiencing, Perceiving, Understanding
Looking for something?
Search our website to help you refine your search.