Team Building
What do we do?
Sentio approaches team building with a unique focus on education. As experienced educators we concentrate on building productive teams committed to the enhancement of student learning and engagement. We assist teams to establish a shared platform based on trust, collegial support and respectful professional relationships.  The Sentio team building program establishes unity, effective communication and clear group objectives. We specialise in providing facilitation services that effectively build a shared vision for quality learning and teaching.
How do we do it?
Our skilled facilitators support educational leaders to build positive and harmonious groups within their learning organisation.  Sentio consultants begin by mapping the current dynamics of the team, clarifying current beliefs and existing group culture. We then collaborate with the group members to build consensus about future goals and protocols linked to communication and cooperation.  Sentio team building  programs build the empathic listening skills of group members, assist with the mediation of minor disputes and focus on building group commitment to agreed operating values, policies and procedures. Sentio facilitators focus on building a team environment that supports rich, ongoing, professional dialogue about quality learning and teaching.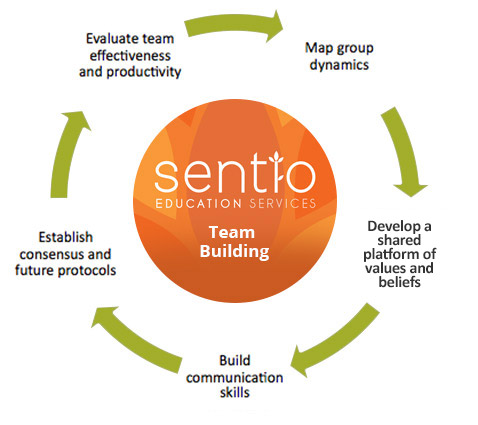 Sentio Education Services currently delivers team building programs in educational organisations focussed on:
Peer to peer mentoring
Productive professional conversations
Positive group dynamics
Embedding wellness
Empathic communication strategies
Articulating teacher beliefs about effective learning and teaching
Sustaining healthy professional learning communities in educational organisations.
Contact us to discuss your requirements at: [email protected]
Sensing, Experiencing, Perceiving, Understanding
Looking for something?
Search our website to help you refine your search.