Strategy
What do we do?
At Sentio Education Services, we believe strategic planning is important; however, new approaches to traditional strategy processes are needed in response to contemporary demands placed on the education sector. Sentio guides educational leaders to formulate visions,  goals and  strategies to meet the complex demands of their community, the current economic environment and broader external requirements.  
How do we do it?
We guide educational leaders from the planning phase through to the writing of comprehensive high level strategic plans based on clear objectives and strategic thinking.  Sentio consultants assist leaders to build their strategic planning capability.  We support educational leaders to collect evidence from a range of sources through consultation with the learning community and synthesise this information through strategic thinking processes.
The Sentio comprehensive planning process enables educational leaders to develop a strategic roadmap promoting staff engagement, key priorities and opportunities for growth. The Sentio strategy system provides facilitation services and tools to implement the following phases: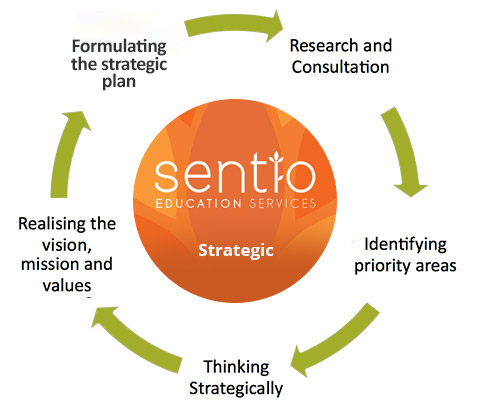 Sentio strategy services include:
Facilitation of strategic thinking processes
Consultation, data collection and analysis
Strategic plan documentation
Curriculum review.
Contact us to discuss your requirements at: [email protected]
Sensing, Experiencing, Perceiving, Understanding
Looking for something?
Search our website to help you refine your search.